Mykonos Heritage and Culture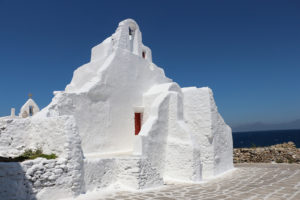 To most visitors, Mykonos must seem like little more than a party island. Although it's true that it is the ultimate destination for partygoers, you can't forget the island's varied and important historical monuments and heritage sites. 
Kato Mili Windmills
One of Mykonos' trademarks is its windmills, which can be seen pretty much from every point of Mykonos Town. The famous Kato Mili, in Chora, is a row of four windmills standing majestically on a hill overlooking the sea. Built by the Venetians in the 16th century, the three-story windmills are capped with wood and straw. They were primarily used to mill wheat but their use gradually declined over the ages until they stopped operating in the mid-20th century.
Church of Panagia Paraportiani 
Among the most photographed sites on Mykonos is the church of Panagia Paraportiani, located in the Kastro neighborhood. The church itself actually consists of five smaller churches, placed either on top or next to each other. At the centre of this complex is the church of Agios (Greek: Saint) Efstathios, surrounded by the churches of Saints Anargyros, Sozon and Anastasia. The dome-shaped church of Virgin Mary lies on top of the other four. Aside from Saint Anargyros, which was built in the late 14th century, the other churches were built in the 16th and the 17th centuries.
Little Venice
If you are after some romantic moments on Mykonos, look no further than Little Venice, one of the most picturesque settings on the island. Rows of medieval two and three-storey houses line the waterfront with their wooden balconies hanging over the sea. Once the properties of local rich merchants or captains, these houses feature little basement doors which provided direct access to the sea and underground storage areas, leading many to assume that their owners might have actually been pirates. Nowadays, most of the houses operate as bars, cafes, shops and art galleries.