The 6 most photogenic spots in Mykonos
The picturesque whitewashed houses, colourful traditional doors and pink bougainvillaea flowers have become a well-recognised backdrop for many Instagram photos. And for good reason: Mykonos has been voted the most beautiful island getaway numerous times in the past. 
Located in the heart of Mykonos Town, we pride ourselves in knowing the island inside out – including the perfect spots to take the most beautiful photos.  
Mykonos: best photo spots you can't miss
1) Mykonos Windmills
Known as the 'island of the winds', it's no surprise that you'll find windmills dotted throughout Mykonos. In fact, there are 16 windmills in total, all of which were constructed by the Venetians in the 16th century. Five of them are located just a couple of hundred metres from Mykonos Town at  Kato Myloi. They have become one of Mykonos' most famous landmarks, and one that can't be missed in your Instagram shots.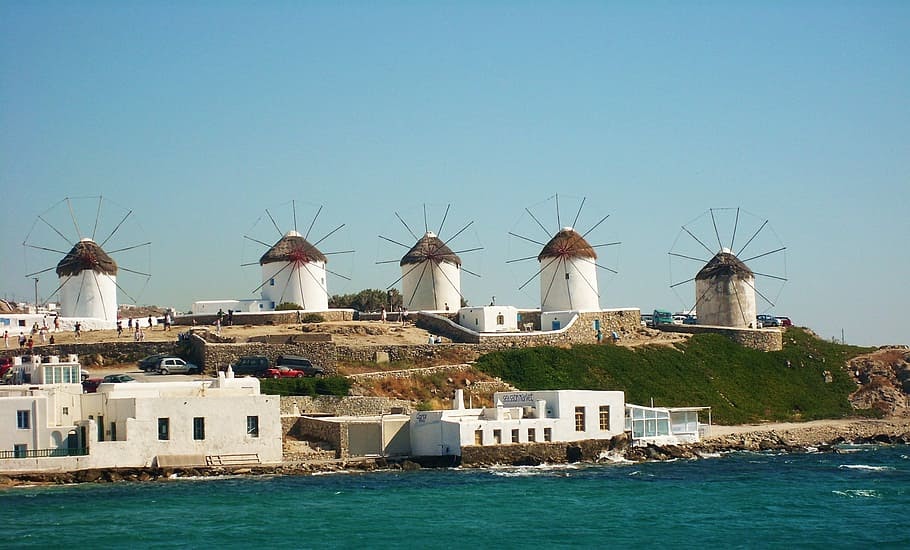 2) Mykonos' iconic Matoyianni Street
Mykonos is well known for its cobbled blue and white streets, taking you to some of the Chora's best hidden gems. From cute boutiques to small, local restaurants and lively bars, each street is lined with colourful, brightly painted buildings, making them one of the best photography spots in Mykonos. Matoyianni street stands out as one of the most popular in Chora, and is well visited by celebrities from all over the world. The street boasts stores with famous brands, exclusive jewellery shops, minimalist-style Cycladic bars and picturesque houses with outdoor wooden staircases. A much loved Mykonos Instagram spot among bloggers, you're sure to find the ideal backdrop for the perfect snap here.
3) Agios Sostis beach
While most beaches in Mykonos are lined with sunbeds and umbrellas, Agios Sostis is what's known as a 'virgin bay' – an untouched beach where people enjoy swimming in silence. The picture perfect scenery, with its surrounding hills and nearby church, make it an ideal photo spot for weddings and honeymoons. If you're looking for a romantic backdrop with a Cycladic feel, look no further than Agios Sostis.
4) Agios Ioannis beach
Agios Ioannis beach boasts beautiful views, a warm breeze and sparkling, clear waters. As one of the most beautiful beaches on the island and with its church on the right side, it's another popular location for Mykonian weddings. It's even made an appearance in the famous romantic-comedy 'Shirley Valentine', giving it the nickname of 'Shirley Valentine Beach.' One of the most beautiful photo spots in Mykonos you cannot miss during your stay.
5) Paraportiani Church
If there's one thing Mykonos has no shortage of, then it's beautiful churches in splendid locations dotted around the island. If you want to visit one with a spectacular, unique design, add Paraportiani Church to your list. Constructed in 1425 and eventually completed in the 17th century, the church's name translates to 'Our Lady of the Side Gate' and consists of five separate churches, joined together in a whitewashed design. As it sits right next to the sea, it offers spectacular photo opportunities at sunset.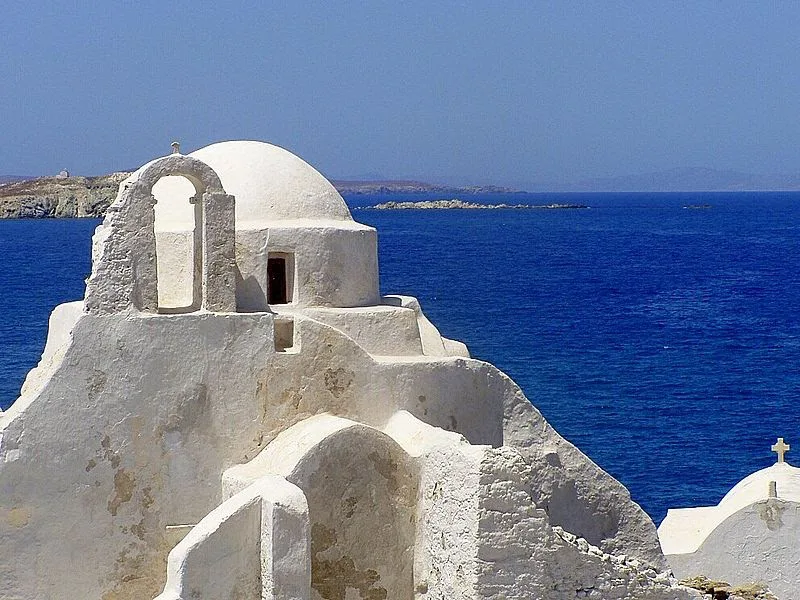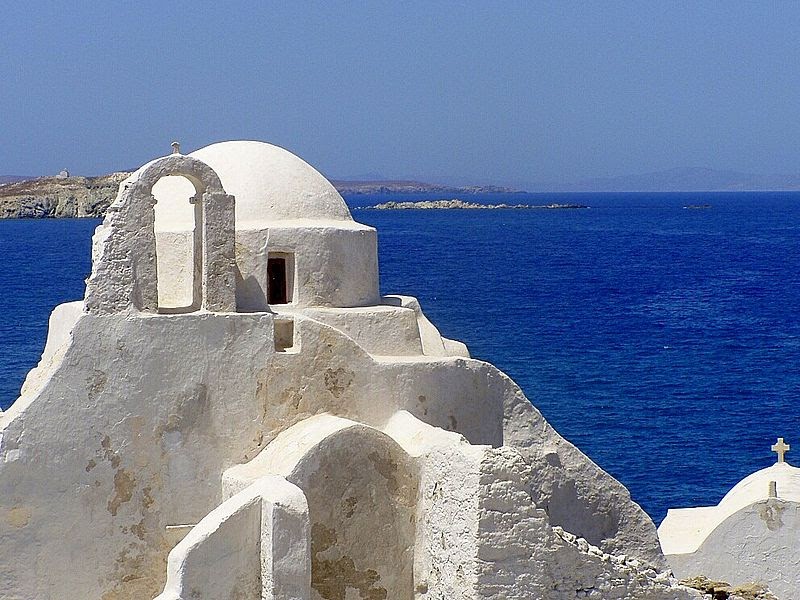 6) Sunsets at 54 Cocktail Bar & Sunset Lounge
Our island boasts some of the world's most instagrammable hotels, and we're proud to have 54 Cocktail Bar & Sunset Lounge as part of our luxury boutique hotel in Mykonos. It's the perfect spot to enjoy the magical Mykonian sun setting over the sparkling Aegean. With a cocktail or champagne flute in hand, the view makes for a classy, dazzling photo opportunity at sunset. And if you're more of a night owl, stay until after hours and enjoy dancing to an eclectic mix of upbeat tunes with some of Mykonos' most beautiful people.

Private tour of the most photographable spots in Mykonos

We know that getting the right photos can make beautiful memories last so much longer. 
If you're visiting Mykonos soon, our VIP concierge service would be honoured to arrange a private tour of the island for you, showing you the most beautiful places to capture memories with your loved ones.