Art galleries you must visit in Mykonos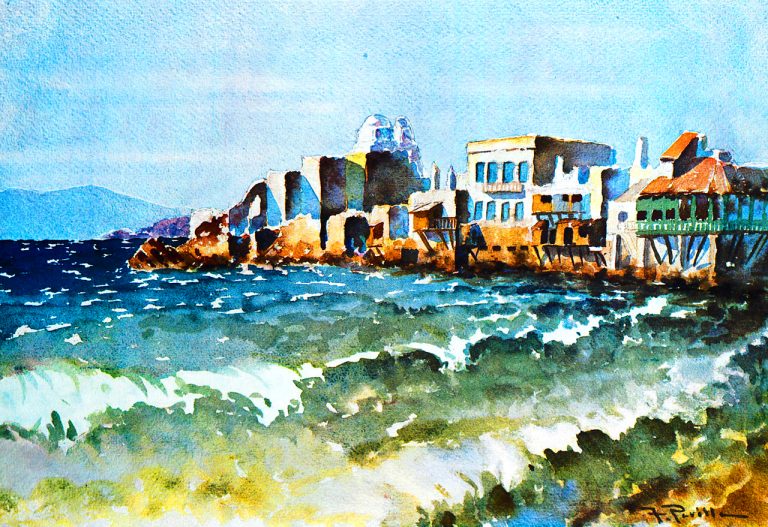 Mykonos is a global attraction thanks to its charming Cycladic landscape, inviting beaches and vibrant nightlife. But there is definitely plenty to see on this island if you are a lover of the arts. 
Several galleries have opened in the past two decades, featuring some of the best contemporary artists – local and international. Here are some of the very best on the island to experience the best of Mykonos culture and arts. 
The Municipal Art Gallery of Mykonos features art collections from Greek and international artists. Between June and October, the gallery hosts a series of artistic events. The gallery also doubles as a cultural centre, organising lectures, seminars and workshops. It's a must-visit for all art lovers.
Address: Zervoudaki, Igglesi Building, Matoyanni, Mykonos, Greece
Tel: +30 22890 27190
Email: [email protected]
Greek painter Magdalini Sakellaridi founded this gallery almost twenty years ago to showcase her own work, as well as that of internationally acclaimed artists. Aside from ceramics, sculptures and paintings by Greek and foreign artists, Sakellaridi is also interested in interior design and decoration.
Address: 22 Ag. Saranta Str., Goumeniou Square, Mykonos, Greece
Tel: +30 22890 22796
Facebook: Art Studio Gallery
This gallery's selling point is that, apart from being an exhibition space, it also houses an active artist's actual workspace. Lifeline Art studio showcases the eclectic work of its founder, UK-born painter Donna Skaropoulou, who encourages the visitor to look behind the scenes, beneath the surface. Skaropoulou studied Fine Arts in Britain, and has lived and worked in Mykonos for the past 25 years.
Address: 7 Skardana Street, Mykonos, Greece
Tel: +30 22890 23147
Facebook: Lifeline Arts Donna Skaropoulou
Email: [email protected]
Artists from all over Greece exhibit their work here. As well as paintings, visitors can admire the beautiful marble work of distinct sculptures, which depart from traditional neoclassical themes, in addition to impressive interior design objects such as fireplaces and tables.
Address: Megali Ammos, Mykonos, Greece
Tel: +30 22890 27765
Fine Arts Kapopoulos maintains branches in Greece and Cyprus, seeking to promote new and local artists. The Mykonos gallery was founded in 2008 with a mission to make art more accessible to the public. It promotes unique, well-established Greek artists as well as exciting new talent with a distinctive voice and a strong, promising identity.
Address: Central Matogianni, Enoplon Dinameon 15, Mykonos, Greece
Tel: +30 22890 27005
Facebook: Kapopoulos Fine Arts
Email: [email protected]
This gallery has been open since 1995 and was the very first to showcase the work of international artists on the island. Here you can find exhibits from acclaimed artists as well as the work of up-and-coming talents across different genres, from painting and photography to sculpture and other languages of visual arts. There is always something new to see here, as the gallery hosts five solo exhibitions every year.
Address: Kalogera 20 – 22, Mykonos, Greece
Tel: +30 2289 025761
Facebook: Rarity Gallery
Email: [email protected]
In the heart of Mykonos Town, not far from the main port, Mosaic Art looks to introduce visitors to the idea of the modern mosaic, a more unusual and relatively unknown art form. The gallery exhibits and sells replicas of older mosaics as well as modern creations. Mosaic Art successfully blends Mykonos's heritage with the contemporary art scene.
Address: Agios Vlassis, Chora, Mykonos, Cyclades, Greece,
Tel: +30 22890 27822
Facebook: Asteria Mosaic Art 
Minima Gallery was established in 1997, showcasing a range of contemporary artworks from both Greek and international artists. The gallery aims to appeal to a wide range of tastes through diverse exhibits, ranging from the highly colourful abstract to stunning examples of landscape photography. Upcoming artists, as well as big names, are usually presented in this gallery.
Address: Goumenio Square, Mykonos, Greece
Tel: +30 22890 23236
Facebook: Minima Gallery Mykonos 
Email: [email protected]