Our guide to the best beaches in Mykonos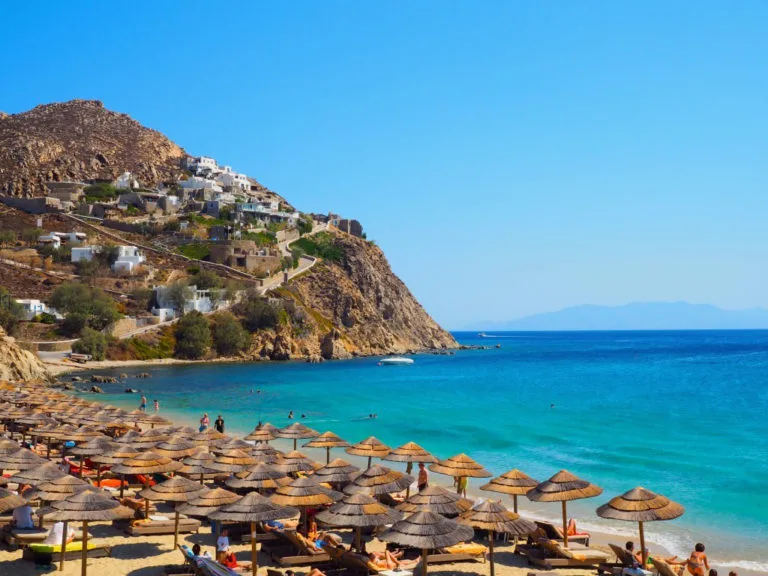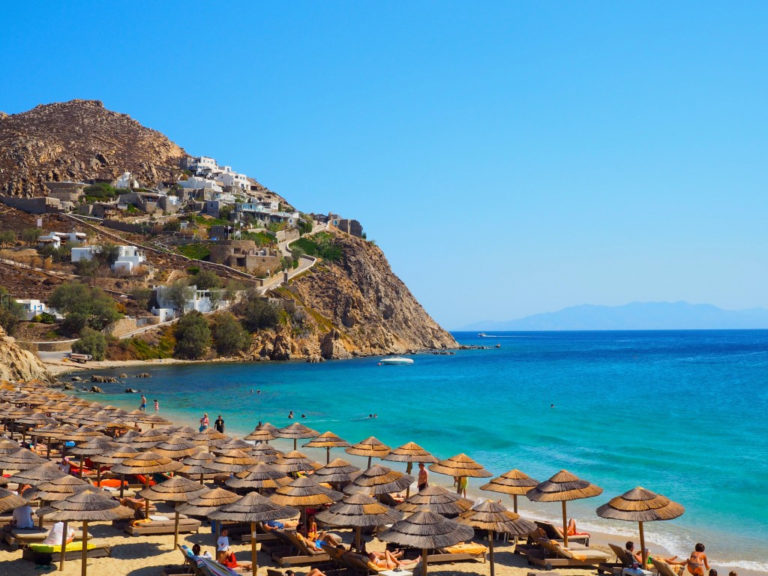 With golden sand and crystal-clear water, the stunning beaches of Mykonos attract visitors from all over the world.  The island also offers plenty of different beaches to suit every taste and mood: from celebrity beaches, where you can see and be seen, to more secluded coves and unspoilt bays ideal for relaxation. So, everyone is guaranteed to find their own piece of paradise!
Most beaches on the island offer comprehensive tourist facilities, from seaside accommodation to beach bars, restaurants and water sports centres. To avoid the large crowds that descend in the early afternoon, it's best to hit the beach as early as you can. 
Southern Coast
The island's southern coast boasts some of the best beaches in Mykonos, as they are sheltered from the Cycladic sea wind, also known as Meltemi and have the best facilities. However, they tend to get extremely overcrowded during peak season and may not be everyone's idea of paradise.  We've put together a selection of the best southern coast beaches, with something for everyone.
Beaches ideal for:
partying till the break of dawn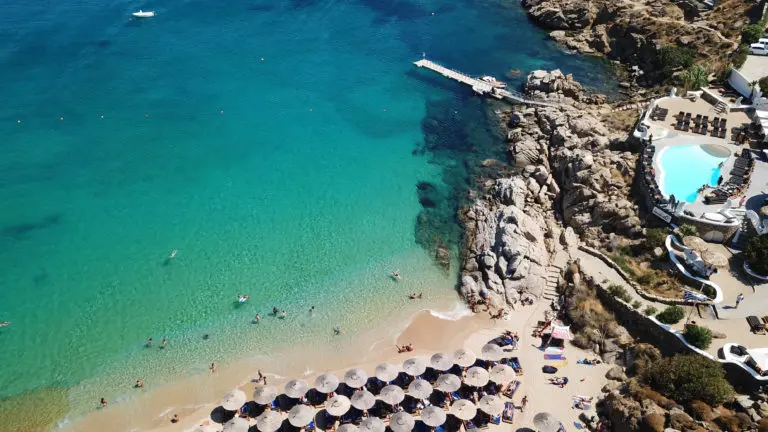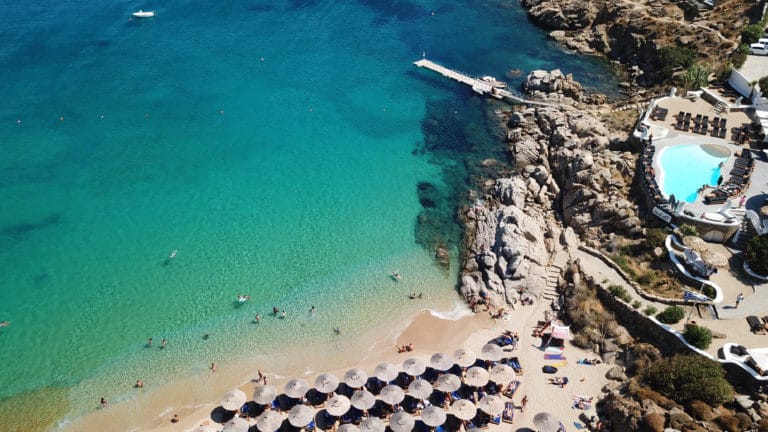 Super Paradise is ranked among the world's ten best-known beaches and one of the best party beaches in Mykonos. It made its name when the hippy generation first came to Mykonos in the late 1960s and early '70s. Many events, including full moon and bubble parties, take place each summer at Super Paradise. In early September it plays host to a legendary end of summer closing party. 
Accessibility is good thanks to the frequent bus service from Mykonos Town and the additional shuttle buses operating during special events. Located in Super Paradise Bay, the legendary Jackie O' Beach Club attracts a diverse crowd of happy partygoers. The restaurant seats 150 people and there is also a large open bar, pool, Jacuzzi and private lounge areas, as well as direct access to the beach.
Located right next to Super Paradise and also known for being one of the first places that brought tourism to the island in the 1970s, Paradise attracts young crowds who will party into the night. If you're coming to Mykonos for the beach party experience, then this is the place to be! The beach can be accessed by a 20-minute bus from the centre of Mykonos town or via a private transfer from the hotel, which our concierge will be happy to arrange for you.
Overlooking the beach and up a hill is the famous nightclub Cavo Paradiso, which has its own pool, restaurant and beach bar. With performances from major international DJs, when the sun goes down Paradise turns into one of the best places to experience the vibrant Mykonos nightlife.
Ideal for:
LGBT hotspot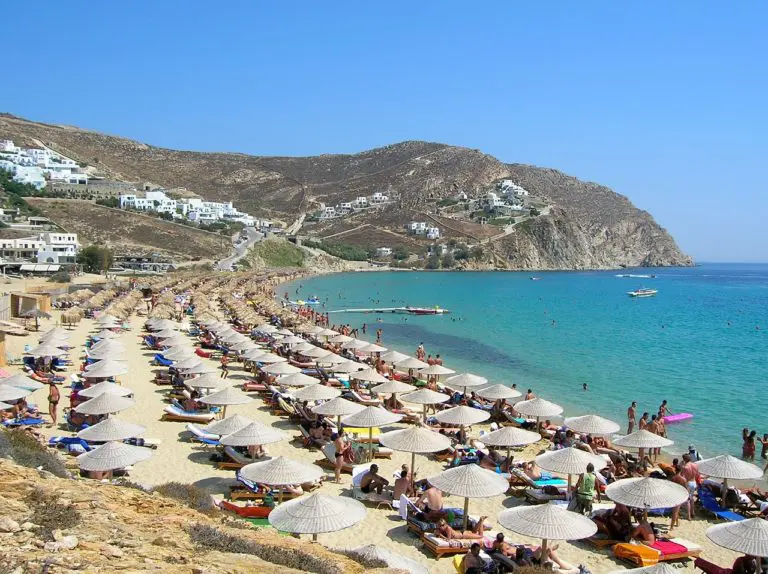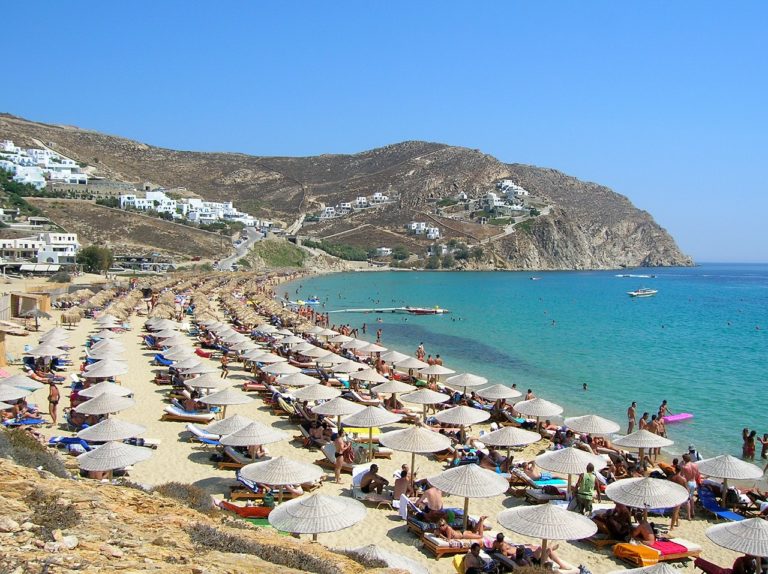 Elia
Elia is the longest beach in Mykonos and has been named as one of the top 10 great gay beaches in Europe. Visitors will find several places to eat, drink or relax, as well as amenities such as umbrellas and sunbeds to rent. The right side of the beach can be easily identified by its rainbow flag and is mostly clothing-optional and preferred by a lot of LGBT tourists. 
Meanwhile, a mix of people may be found on the left side of the beach. Elia can be accessed in half an hour by bus from Mykonos old port station (Chora). Otherwise, a private transfer or car rental can be arranged for you. The beach tends to be quieter in the morning with visitors arriving at lunchtime and then departing in the evening. 
Ideal for:
see and be seen
Paraga is a relatively small but lively beach combining crystal-clear waters, excellent services and many all-day venues, including the Greek-style Nikolas Taverna and the uptempo, feel-good, Kalua beach bar. The beach can be easily accessed by bus from Chora, by a private transfer or by boat from Paradise, Ornos and Platos Gialos. 
Scorpios is an ultra-glamorous establishment for discerning visitors who like a taste of the jet-set lifestyle. This venue occupies its very own peninsula and offers breath-taking views of both the sunrise and sunset, so guests can relax in the morning and party all night. Scorpios is ideal for fine dining, drinking, chilling, sunbathing, partying and shopping.
Northern Coast
Beaches on Mykonos' northern coast don't have as many facilities, are less crowded and as a result, ideal for those wishing to enjoy a calmer and more relaxed experience. Nudists will find some of these beaches ideal, as they are less developed than the ones in the south but equally as beautiful. Public transportation is not as easily available for these beaches so you will need private transportation to access them.
Ideal for:
trendsetters
One of the most secluded beaches on the northern coast of Mykonos is Panormos. This beach is ideal for  laidback and trendy crowds, thanks to the lack of tourist facilities and water sports centres. The sunset here is beautiful, but you will need private transportation to get to the beach as there is no bus or boat service.
The only beach bar in Panormos is Principote Mykonos, which opened its doors in 2016. Situated right on the beachfront, it offers a fine dining experience based on Mediterranean cuisine, in an exclusive and tranquil environment. Champagne lovers can treat themselves to limited-edition champagne and signature cocktails prepared by expert  mixologists.
Ideal for:
relaxation
On the island's north coast more adventurous visitors can discover a secluded spot. Agios Sostis, a wonderful hidden cove, offers none of the usual amenities such as umbrellas or sunbeds, but instead the perfect spot for peace and relaxation away from the large crowds. Those willing to make the trip down a somewhat bumpy road will be rewarded by a magnificent view looking down over the beach.
Ideal for:
 windsurfing
Mykonos is well known for its water sports, particularly windsurfing. It's for good reason that the island is also called the Island of the Winds. A great spot for windsurfers is Ftelia, a windy northern beach and a favourite among water sport enthusiasts. If you want to give the sport a go, or just fancy admiring brave surfers flying across the sea, Ftelia is the place to be