The LGBT Travel guide to Mykonos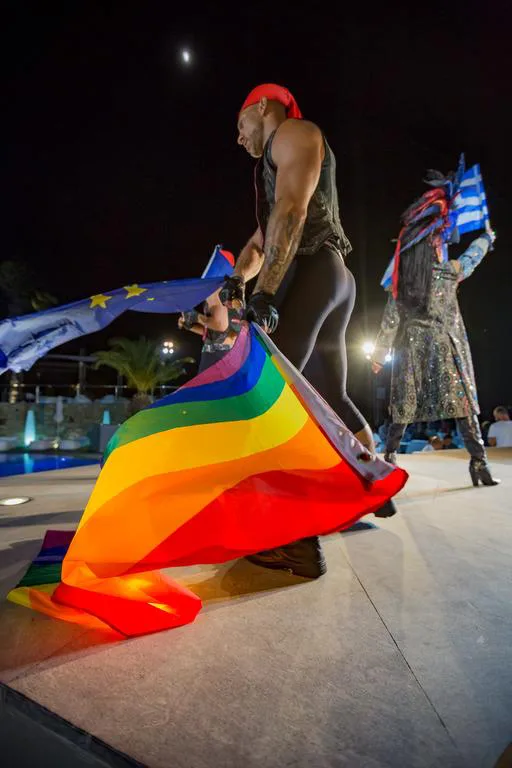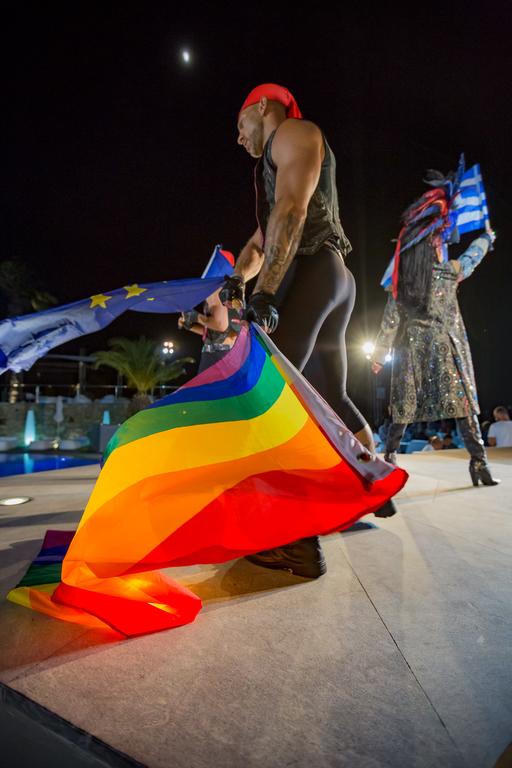 For the past few decades, Mykonos has been a haven for LGBT tourism. The island is actually one of the so-called 'big 4' gay summer resort destinations in Europe, alongside Ibiza, Gran Canaria and Sitges in Catalonia. A lot of gay travellers who wish to spend their holidays relaxing in the sun choose Mykonos, as it offers plenty of gay hotels, bars and beaches – not to mention the crystal clear turquoise waters and parties till the crack of dawn!
Back in the 1970s, Jackie Onassis was the first to put Mykonos on the LGBT  travel map. By visiting the island with her entourage of chic and beautiful people, she set the trendand the gay tourists soon followed. In the '80s and '90s, an increasing number of gay people visited Mykonos, giving rise to the array of hotels, bed & breakfasts, and guesthouses that today cater to the free-spending gay market.
Despite Greece being a Christian Orthodox country with conservative traditions, Mykonos was quick to embrace its big-spending gay and lesbian visitors. Today, most of the island's holiday accommodation is at least gay-friendly. In general, the locals are warm and welcoming, and thanks to decades of gay tourism, they are open-minded regarding the tourists' sexual orientation.
Beaches
A holiday in Mykonos isn't complete without spending time on one of the island's stunning beaches, sunbathing and swimming in the crystal-clear waters. An interesting point to note about Mykonos is that on most of the beaches, the right side of the beach is considered more 'gay'. However, if you're looking to go to the most popular gay beaches on the island, then there are several to choose from.

Known as the most popular and best gay beach in Mykonos, Elia beach is the longest sandy beach in Mykonos. The beach offers a wide range of amenities including sunbeds to rent, restaurants and bars, as well as water sports facilities such as water-skiing, paraskiing and windsurfing. The beach can be accessed in 25 minutes by car from Mykonos Town, by bus or water taxi. 
Previously the only gay beach in Mykonos, it now welcomes everyone but remains extremely popular with the gay crowd. This beach is the place to be if you want to party all day and night! Head to the famous Jackie O' Beach Club for delicious cocktails, light snacks or food by the pool. From 4pm onwards, the Super Paradise Beach Club comes to life and hosts some of the best beach parties that go into the night. The beach can only be accessed by car, but there is also a shuttle provided by Super Paradise Beach Club departing from Fabrika. 
If you're after a more quieter atmosphere, the smaller Paraga Beach is popular with gay sunbathers. The beach has calm, crystal-clear waters and provides sunbeds by the bar, as well as a minimarket where you can purchase snacks, water and beach items including flip flops and sunscreen. The beach can be accessed by bus from Chora or via private transport eg private transfer or car rental. 
Nightlife
Mykonos comes alive at night and is well known for its vibrant nightlife with an abundance of gay bars and clubs to dance the night away in. Whether you're after a sophisticated cocktail whilst watching the sun go down or a lively club with house music, there is something for everyone. The most popular and best gay bars in Mykonos can be found in the centre of Mykonos Town, also known as 'Chora.'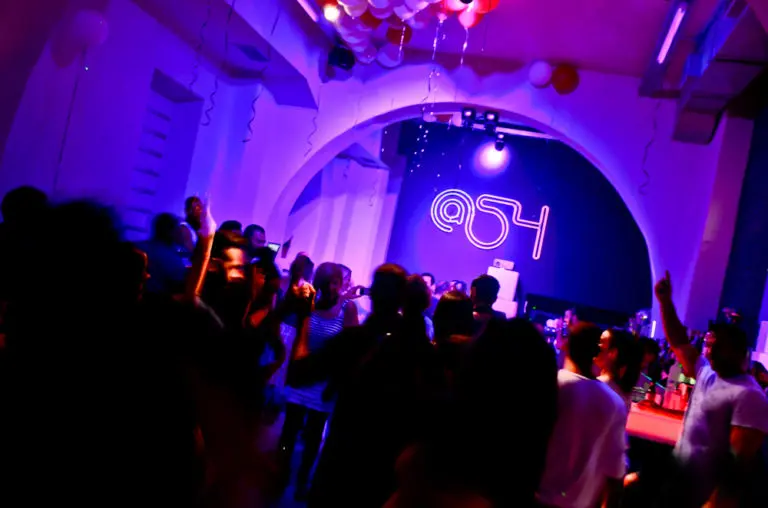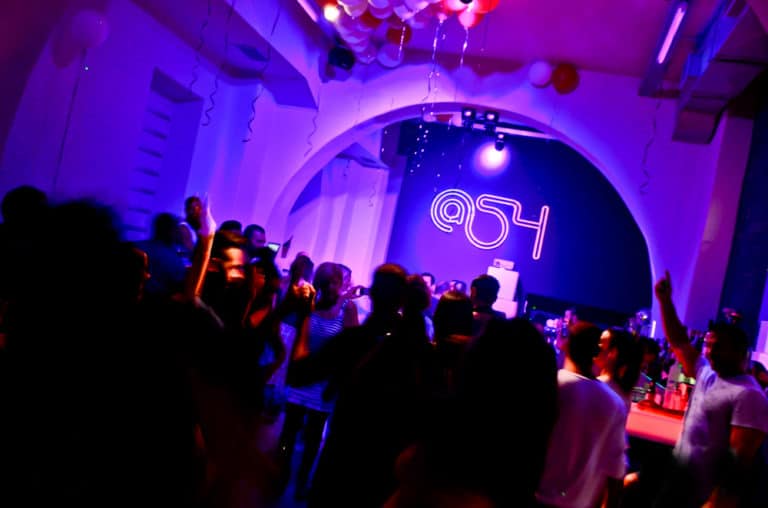 Attached to The TownHouse, Mykonos, 54Bar & Sunset Terrace is the perfect place to start your evening with a cocktail in hand to watch the sun go down. Later on, you can head inside to enjoy the bar's sleek interior and dance the night away. With a range of performances and events, you're guaranteed to have a great time here! 
Located near the harbourfront, the Porta Bar is a chic gay-friendly bar and club. Famous for its delicious cocktails and welcoming atmosphere, it has two bars and a small dancefloor. They have performances from popular DJs and music to suit all tastes from jazz to upbeat house.
This lively bar and cafe may be small but attracts a mixed/LGBT crowd with upbeat tunes, welcoming service and an extensive cocktail menu. With quirky decor and a unique ambience, Lola's is one of the island's hidden gems! 
The Elysium Bar is one of the best gay bars in Mykonos to experience the panoramic views of the island at sunset, whilst enjoying one of their delicious cocktails. They frequently have themed nights with live DJ's, drag queens and shows in a trendy environment. 
This cocktail bar and restaurant is located in Little Venice, the quaint area of Mykonos with brightly painted Medieval houses. With a terrace enjoying spectacular sea views, Katerina's Bar & Restaurant is the perfect place to sit and enjoy a drink or two. If you get hungry, they serve freshly cooked Greek/Mediterranean cuisine with an emphasis on seafood.  
If you're looking for a more relaxed vibe or somewhere to go to begin your evening, then Kastro's Bar is a good option. They have been proudly serving tourists since 1976, with stunning views of the Mykonos Windmills. Specialising in fruit cocktails and fresh seafood, you can have an authentic island experience here. 
Known as the most popular gay club in Mykonos, if you're looking to party then Babylon is the place to end your night! Located next to the famous Jackie O'Club, it has a beautiful outside terrace with lounge seating but the main party happens inside. They host many different events in the summer including drag shows and Go-go dancers. 
Festivals
Launched back in 2009, the Xlsior festival has become one of Europe's best annual gay dance festivals. Every August, over 30,000 gay travellers arrive in Mykonos to enjoy international DJ's and some of the most major artists in the gay circuit scene. Highlights include the opening party at the Elysium Hotel, with many parties held at Cavo Paradiso, which usually continue out onto Elia Beach.
Intrigued? Book your stay with us for the festival at The TownHouse, Mykonos for a week to remember!