Where to eat in Mykonos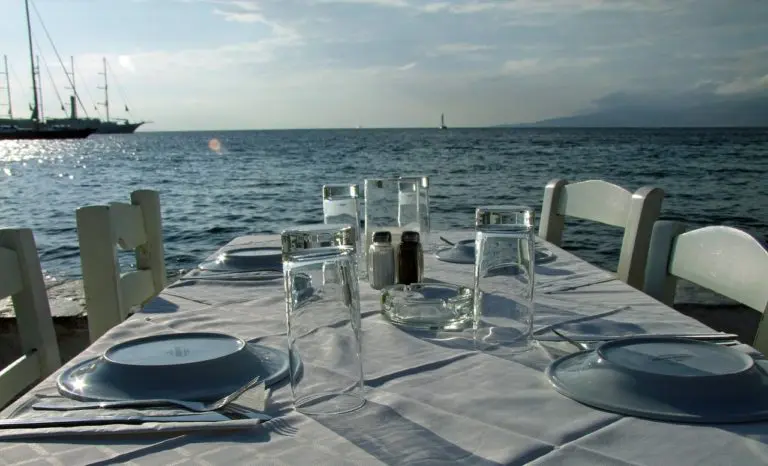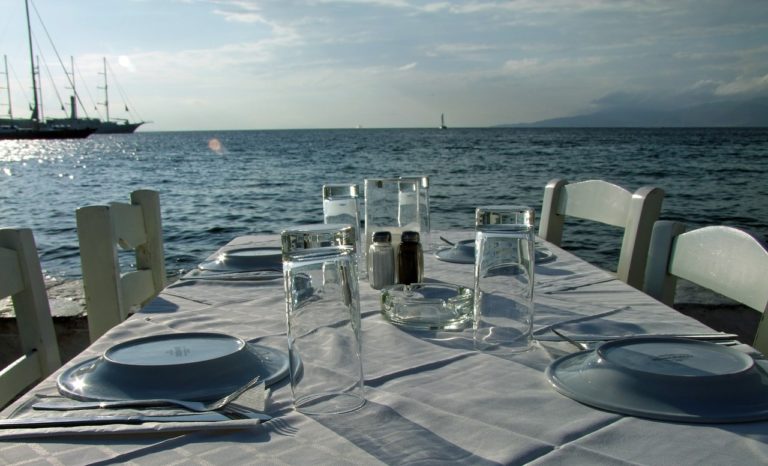 From traditional tavernas to trendy establishments, Mykonos has a wide variety of exceptional dining spots to choose from. Whether you're after a romantic dinner or a buzzing beach club atmosphere, there is something to suit every taste.
There are still many restaurants in Mykonos serving up authentic Greek delicacies, including fresh seafood and meat dishes. However, if you're looking for something special and a bit different, there are also many that have put a modern twist on these classic dishes, with international influences.
Here are some of our favourite dining spots in Mykonos and what to eat there! 
Nikolas Taverna is one of the oldest restaurants on the island and has been welcoming tourists with its warm and friendly atmosphere since 1967. It has maintained this unique and authentic character, with a focus on homemade Greek cuisine. Dishes are prepared with fresh local ingredients, the majority of which are grown in the family's fields, with meat from their private farm and fish caught daily by them. The extensive menu includes traditional hot appetisers such as saganaki, followed by fresh seafood and classic Greek dishes such as Moussaka. 
Address: Agia Anna – Paraga 
Tel: +30 6945680489
Facebook: Nikolas Taverna 
Instagram: @nikolas_taverna
Open: 9am to 9pm
This legendary restaurant is located in one of the most beautiful areas of Mykonos, just underneath The Windmills and opposite the charming Little Venice, with stunning views of the Aegean Sea. As seafood experts, they allow diners to pick out their shells, clams, lobsters and shrimps of choice to then be grilled. Appetizers such as homemade fish roe salad, octopus and grilled vegetables are all prepared with fresh local ingredients and perfectly flavoured. To finish off your meal, the famous dessert "loukoumades" are small crunchy donuts covered in Greek honey and topped with vanilla ice cream. 
Address: Windmills
Tel: +30 2289 024676
Facebook: Sea Satin Market Mykonos 
Instagram: @Caprice of Mykonos 
Open: 6.30pm to 2.30am 
Koursaros serves seafood delicacies made with the best local ingredients. The restaurant is in beautiful surroundings, resembling a pirate ship, in the centre of Mykonos Town, just a stone's throw from Little Venice. Fresh fish and sushi are the house specialities, but meat lovers will also find good choices on the menu.
Address: Meletopoulou Square
Tel: +30 2289 078140
Facebook: Koursaros Restaurant Kolonaki Mykonos 
Instagram: @koursarosmykonos
Open: 6.30pm to 1.30am
Kalita Restaurant is located at the Fresh Hotel and stands out for its elegant décor, trendy atmosphere and the romantic surroundings of its garden. It serves fresh fish, organic pasta and plenty of tasty cheeses.
Start your evening with a cocktail in the bar, before sampling some creative Greek dishes. Try the homemade whitefish roe dip, trilogy meatballs flavoured with Cycladic aromas, Cretan organic pasta with Naxos cheese and Grouper with vegetables and a fisherman's sauce. For dessert, don't miss the homemade pumpkin pie with cinnamon ice cream.
Address: Kalogera 31 str. (Mykonos Town) 
Tel: +30 22890 27102 / +30 22890 22704
Facebook: Kalita Restaurant Mykonos 
Instagram: @kalitamykonos
Open: daily from 5pm to 2am
The legendary Remezzo was established in 1967 but is still one of the best places to party until dawn and remains the meeting point of international jet setters. The restaurant has recently been re-launched, offering special guest DJs and parties along with its fine dining cuisine. Remezzo is in a magnificent spot with stunning views and serves Mediterranean dishes with a multinational twist as well as first-class seafood.
Address:  Polikandrioti str. (Mykonos Town)
Tel: +30 2289 025700
Facebook: Remezzo Mykonos
Instagram: @remezzomykonos
Open: 6pm to 4am
Set in a beautiful garden in Matoyiannia, Interni restaurant has been designed by the famous designer Paola Navone. Its dishes combine Mediterranean cuisine with an international touch; the menu is updated every year and the wine list is extensive. Interni is an ideal meeting point for quality food, signature cocktails and parties until dawn.
Address: Matoyiannia
Tel: +30 2289 026333
Facebook: Interni Restaurant Mykonos
Instagram: @internirestaurant
Open: 8pm to 3am
Nammos Restaurant has been one of the top beach dining establishments in Mykonos for the past ten years. It's an ideal place for leisurely lunches or romantic dinners by the seashore. The clientele is very chic and stylish, enjoying this 'a la mode', spacious, white mood and wood décor restaurant.
The service is first-rate and the atmosphere relaxed. The food is excellent, with simple tasty salads, freshly grilled fish and mouth-watering desserts.
Address: Psarou Beach
Tel: +30 2289 022440
Facebook: Nammos Mykonos
Instagram: @nammosworld
Open: 10 am to 12pm (Monday to Friday) and 10am to 1am (Saturday and Sunday)

This unpretentious tavern is found on Agios Sostis beach, which is one of the island's few remaining unspoiled beaches. If you want a break from the craziness of the island with a splendid view of the ocean and simple dishes of grilled meat and fish, this is the place for you. The restaurant offers a choice of fresh salads, huge pork steaks, chicken, calamari or fish. The ideal way to finish a good meal is with a nice cup of Greek coffee and a brownie.
Address: Agios Sostis Beach
Facebook: Kiki's
Open: They are open from 12.30pm-6pm but don't take reservations so it's important to get there as early as possible to get in line. To make queuing more enjoyable, they even hand out free rosé wine!
As one of the island's most popular beach restaurants, 'Kuzina' (which literally means kitchen in Greek) serves some of the best Mediterranean and Asian fusion dishes, lovingly prepared by renowned Chef Aris Tsanaklidis and his team. Whether you choose to start the day there with a fresh-pressed juice, or visit for a delicious dinner while listening to upbeat music, Kuzina Mykonos will not disappoint. 
Address: Ornos Beach
Tel:  +30 22890 26434
Facebook: Kuzina, Ornos
Instagram: @kuzina.mykonos
Open: 8 am to 11 am (breakfast only), 12 pm to 1 am (food served)
Joanna's Nikos Place is a lively local gem serving traditional Greek delicacies that you can enjoy whilst listening to live music. It's a popular spot and can get very busy, so we highly recommend booking in advance. Overlooking the beach and just a few minutes' walk from the windmills, this is a spot not to be missed when visiting Mykonos. They are well known for their delicious Mykonian egg, mousakas and mixed grill.
Address: Megali Ammos Beach
Tel: +30 2289 024251
Facebook: Joanna's Nikos Place 
Open: 12pm to 11pm
In a beautifully secluded garden setting, Avra restaurant is one of the island's long-standing establishments that continues to delight tourists who return year after year. It's owners strive to create a unique culinary experience, where diners can enjoy authentic Greek delicacies such as Moussaka, as well as a range of international dishes. 
Address: N.Kalogera Street 27
Tel: (+30) 22890 22298
Facebook: Avra Mykonos 
Open: 7.30pm to 1am 
With the culinary expertise of renowned Executive Chef Ntinos Fotinakis, Bill & Coo offers a selection of luxurious dining options to suit every taste. The Gastronomy Project provides an imaginative culinary experience and modern twist on Mediterranean cuisine. Meanwhile, Beefbar Mykonos is a day-to-night beach bar which serves the finest quality meat cuts and grilled fresh fish. They also have a sunset lounge bar located by the hotel's infinity pool where you can enjoy a cocktail before or after your meal! 
Address: Megali Ammos
Tel: (+30) 22890 26292
Facebook: Bill & Coo
Instagram: billandcoowayoflife
Open: 7.30pm – 11.30pm
Address: Agios Ioannis beach
Tel: (+30) 22890 77865
Facebook: Bill & Coo 
Instagram: @billandcoowayoflife
Open: 11am – 12am
Baos offers fine dining in Mykonos Town, with a contemporary twist on traditional Greek cuisine. Ingredients are sourced from farm-to-table, from organic seasonal produce to freshest local seafood and farm-reared poultry. As well as exceptional food, they also aim to maintain an impeccable level of service with great attention to detail. If that isn't enough, the restaurant's location on a hillside ensures you will have a stunning view of the ocean whilst you dine. 
Address: Mykonos Town
Tel: (+30) 22894 42390
Facebook: Baos 
Instagram: @baos.mykonos
Open: 8pm to 11.30pm
Well known in Mykonos for its exotic ambience, Buddha-Bar Beach is the ocean side version of the world-famous Buddha Bar. Located above Santa Marina's private beach, this island hotspot offers an exceptional fusion of Asian cuisine with a Mediterranean and Greek twist. Specialties include a wide range of sushi, as well as fresh seafood and delicious pasta dishes. Whether you're after a leisurely lunch or cocktails and dinner to get your evening started, then Buddha Bar won't disappoint! 
Address: Ornos Bay
Tel: (+30) 2289 026570
Facebook: Buddha-Bar Beach Mykonos 
Instagram: @buddhabarbeachmykonos
Open: 1-7pm, 8pm – 1am (only 8am – 1am on Wednesday)
On the southern tip of Mykonos island, Scorpios beach club was formerly a rustic house which has been transformed into a dreamy boho-luxe hotel, beach club restaurant and live event space. With a core principle that the food we eat should nurture us through natural ingredients, the Scorpios restaurant offers healthy, organic and predominantly vegetarian food. Nationally acclaimed chef Alexis Zopas focuses on carefully sourced Greek cuisine with Mediterannean and Oriental influences, with dishes such as seafood ceviche with chilli, coriander and green olive oil served on large plates. 
Address: Paraga
Tel: +30 2289 029250
Facebook: Scorpios Mykonos 
Instagram: @scorpiosmyk 
Open: 11am to 2pm
Bringing the spirit of Ibiza to Mykonos, Blue Marlin Ibiza Mykonos offers a lively beach club with day to night dining. The club is host to superstar electronic DJs throughout the summer season, combining top-class hospitality and entertainment by the sea. Blue Marlin is spread across white wooden decks, with wooden lounge chairs offering a rustic-chic ambience. The restaurant's contemporary and Mediterannean style menu is curated by renowned Chef Connoisseur of Mykonian gastronomy, Chef George Stylianoudakis.
Address: Kalo Livadi Beach
Tel: (+30) 694 311 9944
Facebook: Blue Marlin Ibiza Mykonos 
Instagram: @bluemarlinibiza
Open: 10am – 12pm
Located on Panormos Beach, Principote is one of the hottest spots on the island for a luxury Mykonian beach club experience. Head here to soak up the sun on one of the best stretches of golden sand on the island. As the day unfolds, the environment becomes more lively with music from resident DJ G-soul and refreshing cocktails on offer. The restaurant offers Greek delicacies with a modern twist, including gastronomic delights such as grilled octopus on fava bean purée with caramelized onion. 
Address: Panormos Beach
Tel: +30 2289 077184
Facebook: Principote Panormos Mykonos 
Instagram: @principote_mykonos
On the eastern end of laidback Ftelia Beach, you can find a hidden haunt filled with hip and stylish Athenians and global travellers. The Alemagou beach bar and restaurant offers simplistic bohemian design, with rustic reed-thatched roofs offering shade from the beating sun. Relaxed yet elegant, the restaurant's menu is based on a simple combination of traditional cuisine and fresh ingredients which have been reinvented into modern dishes. If you're looking for a casual but unique experience at one of the island's hidden gems, then this is the place to visit! 
Address: Ftelia Beach
Tel: +30 2289 071339
Facebook: Alemagou Mykonos
Instagram: @alemagou_mykonos
Hungry yet? If you need any further assistance in finding a restaurant when staying with us, our concierge will be happy to assist and advise you with the best options.